COLOMBO LEOPOLDO
Wood boats builder
COLOMBO LEOPOLDO
Wood boat builder
OUR SERVICES
All the services offered by our boatyard
OUR TROPHIES
The trophies won and the races
OUR CONTACTS
Get in touch with our boatyard
COLOMBO LEOPOLDO
Wood boat builder
COLOMBO LEOPOLDO LAKE COMO BOAT BUILDER
For over 70 years craftsmen of wooden boats
Colombo Leopoldo – Lake Como boat builder goes back over 70 years and is characterized by its wooden sailing and motor boats of any size. The boatyard takes care of the smallest details and searches for the most suitable materials for the development of unique boats of their kind. The professionalism and experience accumulated over the years have allowed us to build boats that are always highly reliable and in step with the times.
The boatyard Colombo Leopoldo Lake Como also takes care of restoring boats of any size, both in wood and in other materials, always managing to satisfy the customer's requests thanks to careful craftsmanship.
Since 1943, more than 450 dinghies have been built in the yard – in fact in 1993alone, 17 of these small, popular boats were built and in recent years the 12p dinghiesof the yard have begun to win more and more international, national and localchampionships.
Colombo Leopoldo – Lake Como boat builder also offers storage, transport, painting, refitting, design, assistance, repairs, restructuring services..
PASSION, ART AND TRADITION…
The continuous search for a unique and unmistakable style where the details make the difference.

HOW TO CHOOSE A WOODEN BOAT?
HERE 5 TIPS
Choosing a wooden boat is never an easy task and we must keep in mind that the importance of the material used to build a wooden boat is fundamental and Colombo Leopoldo Boat Builder on Lake Como has been wanting to help you understand how to choose for over 70 years. in the best way with 5 tips
MATERIAL

Wooden boats are the history of the nautical world and have an unparalleled elegance that distinguishes them from boats built with other less noble materials.
The woods most used for a wooden boat are Teak, oak, ash, iroko, mahogany and fir.

USE

Depending on what is to be built: shell, trees, beams, interior furnishings, blankets, frames and so on, the construction site together with its client decides which type of wood to use to create so that the result is optimal.

PROJECT

The design is very important to be able to build the wooden boat with all the correct reviews. Colombo Leopoldo always interfacing with the customer, designs boats to offer a high level of navigation comfort and liveability. Our shipyard collaborates with the Technical Studio of Eng. Aldo Gatti

CONSTRUCTION

A wooden boat is a unique and incomparable piece and the Colombo Leopoldo shipyard uses artisanal methods handed down over the years and important innovative methods such as the Computer Numerical Control machine for precision in cutting wood. The latest creation is the Poldo '23, an inboard mahogany vessel of over 7 meters; watch it here!

ASSISTANCE

A fundamental advice that we would like to give is the importance of assistance, which must be pre and post sales to ensure the customer total confidence in the shipyard that offers all the knowledge and always tries to solve any doubts and problems encountered by the customer.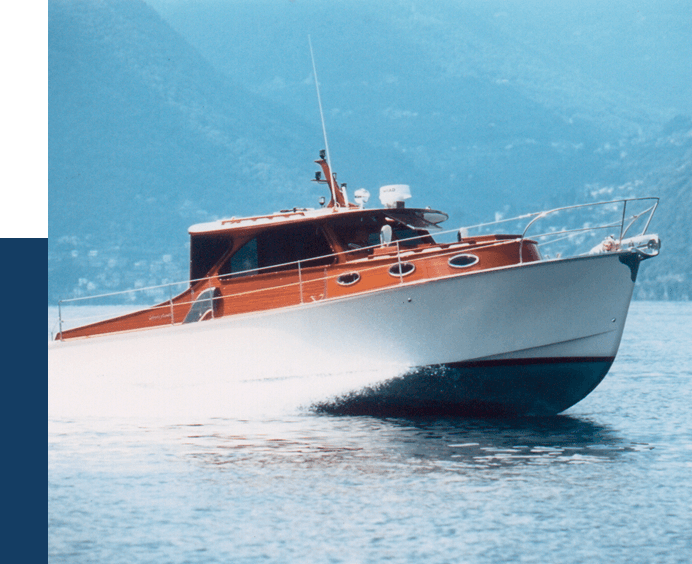 Our boatyard is at your disposal
We will respond as soon as possible to your requests !!!
If you have special needs, you can request a personalized quote at any time, by sending us a request and indicating the type of service you need.
Our quotes are totally free of charge and do not imply obligations towards the customer who made the request.
Fill out the form below for any type of request.
La storia e l'esperienza che ha alle spalle il Cantiere Nautico Colombo Leopoldo parla per loro. Una garanzia!!!
Colombo Leopoldo shipyard gave a new life to my historic wooden sailboat. Giorgio, Roberto and Giovanni knows what it means to work with wood. Thank you!!!
Un nome storico per la nautica sul Lago di Como. Imbarcazioni belle ed eleganti in legno.
The Colombo Leopoldo boatyard participated in the IV Conference on Vintage Boats organized on January 28 by the Verbano Vintage Sail Association on Lake Varese.
read more
The Colombo Leopoldo boatyard participated in the IV Conference on Vintage Boats organized on January 28 by the Verbano Vintage Sail Association on Lake Varese.
read more
In 1917 Leopoldo Colombo was born on Lake Como, the future owner of the shipyard of the same name specializing in the construction and restoration of wooden boats
read more
Follow us and stay updated by discovering all our news in the nautical world