For over 70 years craftsmen of wooden boats
  Over 70 Leopoldo Colombo was born in Griante in 1917 and started working at 12 years old as an apprentice at the Cranchi boatyard on Lake Como where he learnt to build wooden boats of up to 12 metres long. During the 2nd World War he was exonerated from military service to build craft for the war cause – slow cruising torpedoes built from wood and guided below the water by a frogman. Then in 1943 in an old cellar in the village of Griante, he founded the boat-building company of the same name. The shipwright shapes and adapts the wooden block with care and wisdom to adapt it to what will later be its final form, a noble and precious profession for the restoration of vintage boats that need to be worked with a certain mastery to maintain their true essence, this is why the Colombo Leopoldo boat restoration relies on the knowledge and professionalism acquired in more than half a century of restorations, wisely mixing the classic with the Cantiere Nautico Leopoldo Colombo, inizialmente, era situato in una vecchia cantina nel villaggio di Griante e lì furono realizzate le prime imbarcazioni in legno, i Dinghy lunghi 12 piedi, gli Snipes, Lancette a remi, e le barche caratteristiche del lago di Como chiamate "Renzio & Lucia" e altri tipi di natanti che raggiungevano fino ad un massimo di 5 – 6 metri di lunghezza. The first wooden boats produced were 12 foot dinghies, Snipes , characteristic boats of Lake Como called "Renzio & Lucia" and other boats reaching up to a maximum of 5 to 6 metres in length.
In the 1960s, he moved to a bigger boatyard in the centre of Griante, where the production of wooden vessels was extended and he began to build other boats such as the Europa, Cadet and Optimist. Over the years, Leopoldo's sons Giorgio and Roberto (born in 1952 and 1956 respectively) began working in the boatyard. Giorgio started work at the boatyard when he was 16 while attending an evening school for mechanical design and Roberto joined the yard in 1976.
Leopoldo retired in 1996 due to ill health and in 1999 he was awarded the distinguished title of "Nautical Pioneer" in recognition of his long career dedicated to building wooden boats and him being a master craftsman. The award was given to him during the 10th edition of the National Union of Boatyards and Nautical Industries held in Genoa. Leopoldo spent his last years in a nursing home but never lost his interest in boats and the work his sons were undertaking. He died in 2006.
By following in Leopoldo's footsteps, Giorgio and Roberto carried on the family tradition of constructing and restoring wooden boats, but they also brought important innovations to the company, such as new classic style crafts like the Catboat and Lobster and introducing a high precision machine called "Computer Numerical Control" for cutting wood for the boats.
Giorgio Colombo is one of only two boatbuilders on Lake Como who holds the prestigious qualification of "Master Craftsman", awarded to him in Genoa in 1998.
In 2008 Giorgio's son Giovanni joined the family enterprise to embark on the long journey of learning the necessary skills so as to maintain the high standards started by his grandfather over 70 years ago.
The Colombo boatyard has been exhibiting their craft at the Genoa Boat Show since 1974, as well as attending numerous other exhibitions over the years, such as the boat shows in Friedrichshafen Germany , Barcelona and Lugano abroad and in Italy; Lariofiera at Erba Como, and for the past three years at the Craft show in Milan. Since 1943, the Colombo boat yard has built over 400 dinghies – in fact in 1993 they managed to build 17 in one year alone due to the popularity of this small craft. The nautical designer Ing. Aldo Gatti of Milan (Senior member of the Association for Nautical Pleasure Craft Designers), has collaborated with the Colombo boatyard for over 30 years and at the moment is working on the design of a new wooden boat "POLDO 23", using the latest technology.
The Colombo boatyard has built wooden boats with sails or engines, cruisers or open boats of up to 20 metres long, based on either designs or client's personal specifications. This created the need for a larger boatyard to accommodate the increased volume of work, as well as the size of the boats. Their new boatyard, which they moved to in 2004, is situated in Grandola ed Uniti, Como and is spread over a covered area of 700 sq.metres with 2,800 sq. metres of outdoor space.
The Colombo Leopoldo boatyard won recognition with its first important trophy in 1995, when a Colombo wooden dinghy called "Principe" skippered by Corrado Isenburg, won the 12p Dinghy Italian Championship. In 2008 our boatyard took part in the "Artis Project", (promoted by the Lombardy Region and the Lombardy Chamber of Commerce) and on 1st of December 2008, during the official prize-giving ceremony, the boatyard Colombo Leopoldo was awarded special recognition with regard to quality and excellence in the Lombardy region sector for wood and precious metals.
Negli ultimi anni i Dinghy 12p del cantiere hanno cominciato a vincere sempre più campionati a livello internazionale, nazionale e locale.
In 2011, il Dinghy "Leon…Poldino" timonata da Paolo Viacava ha vinto il Campionato Italiano Dinghy 12 P (prevalendo su 74 partecipanti) riservata ai dinghy classici disputatasi a Marina di Scarlino dal 7 al 10 giugno.
Il campione ha corso per la prima volta con un Dinghy interamente in legno costruito dal Cantiere Leopoldo Colombo. Sempre in 2011, un Dinghy Colombo "Spirit of Falena" timonato da Giorgio Pizzarello ha vinto la World Cup 2011 disputatasi a Venezia dal 1-4 giungo (nei primi venti classificati ben 5 dinghy sono stati costruiti dal cantiere) confrontandosi con più di cento partecipanti. Il dinghy costruito nel 2009 aveva già vinto nel 2010 la World Cup sul Lago di Bracciano con al timone Vincenzo Penagini.
La novità dell'estate 2011 del cantiere è il dinghy in vetroresina e legno che ha già vinto parecchie regate locali.
Birth
Year of birth of the founding father of the boatyard: Colombo Leopoldo
First years
work as an apprentice and hired by military institutions as an experienced craftsman.
Opening
Foundation year of the Colombo Leopoldo boatyard in Griante
Transfer
The boatyard becomes larger and moves to a larger location.
Giorgio Colombo
The eldest son Colombo Giorgio starts working with his father on the boatyard.
First exposure
The boatyard is exhibiting at the Genoa Boat Show for the first time.
Roberto Colombo
Roberto Colombo joins his father and brother and starts working on the boatyard.
First Trophy
First trophy won by a Dinghy 12 P by Colombo Leopoldo Boat Builder
Shipwright
Giorgio Colombo is recognized with the qualification of %22Shipwright%22.
"Pioneer of boating"
Colombo Leopoldo is awarded the national title of %22Pioneer of boating%22.
New Location
The boatyard moves to a larger area for boat building.
Giovanni Colombo
Giovanni, Giorgio's son, starts working on the construction site next to his father and uncle.
Awarded
Quality and excellence in the wood and precious metals sector of the Lombardy region.
Trophies
The Dinghies built by the Colombo Leopoldo shipyard are trophies around the world.
Giorgio Colombo is one of the only two boat builders operating on Lake Como who enjoys the prestigious qualification of "Shipwright". Download here

At your service for over 70 years
Colombo Leopoldo – Lake Como Boat Builder, in addition to the construction and restoration of boats, deals with a series of nautical services and complete assistance tailored to the customer's needs.

Refurbishment of vintage boats

Construction of teak decks

Total reconstruction of the skeleton of the boat

Winter storage in the shed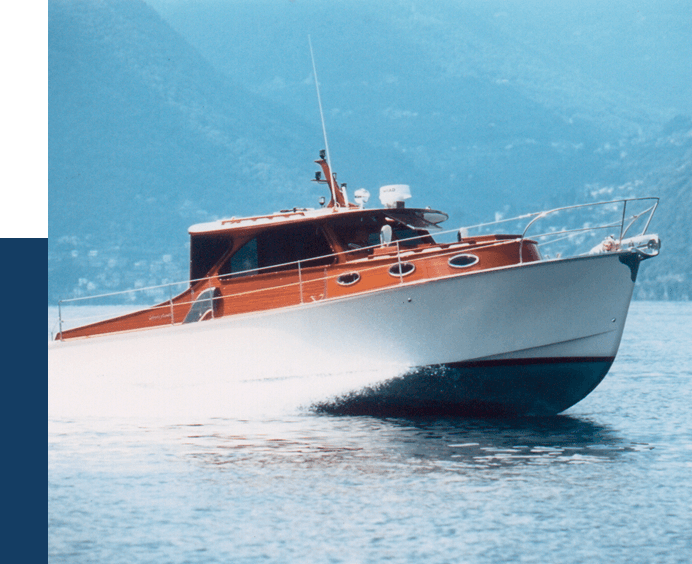 Our boatyard is at your disposal
We will respond as soon as possible to your requests!!!
If you have special needs, you can request a personalized quote at any time, by sending us a request and indicating the type of service you need.
Our quotes are totally free of charge and do not imply obligations towards the customer who made the request.
Fill out the form below for any type of request.
La storia e l'esperienza che ha alle spalle il Cantiere Nautico Colombo Leopoldo parla per loro. Una garanzia!!!
Colombo Leopoldo shipyard gave a new life to my historic wooden sailboat. Giorgio, Roberto and Giovanni knows what it means to work with wood. Thank you!!!
Un nome storico per la nautica sul Lago di Como. Imbarcazioni belle ed eleganti in legno.
The Colombo Leopoldo boatyard participated in the IV Conference on Vintage Boats organized on January 28 by the Verbano Vintage Sail Association on Lake Varese.
read more
The Colombo Leopoldo boatyard participated in the IV Conference on Vintage Boats organized on January 28 by the Verbano Vintage Sail Association on Lake Varese.
read more
In 1917 Leopoldo Colombo was born on Lake Como, the future owner of the shipyard of the same name specializing in the construction and restoration of wooden boats
read more
Follow us and stay updated by discovering all our news in the nautical world